This is a special guest post by Mark and Dale of Meet Me Onboard. Azamara is a proud partner of Meet Me Onboard, the largest gay cruise community online. Mark and Dale traveled as guests of Azamara.
Azamara
®
's longer port stays give us the opportunity to do much more than merely sightsee. On our Azamara Quest cruise to
the UK and Ireland
, we met and chatted with locals. We learned about the country by engaging with regular people (not even associated with the tourist industry) who shared their stories with us.
PATRICK IN WATERFORD
Wandering the cobblestone streets of Waterford, Ireland, we found ourselves in Christ Church Cathedral Square. Just steps from the entrance of the 18th-century cathedral there is a simple and moving monument to John Condon, a World War I soldier who died in Flanders. A plaque notes that at 14, Condon was the youngest to die in combat in the "war to end all wars."
As Mark adjusted his Nikon D3200 camera to find the perfect shot of the stone façade of the church, a melodic voice hailed us from across the street. We saw a man holding a pair of gardening shears in the colorful flower garden of the building across the way. He suggested the perfect way to frame the shot. When we walked across the street to thank him, he introduced himself as Patrick and offered a friendly, informal history of the area.
Patrick explained that the building whose building and grounds he tends is Cathedral Close Retirement Apartments. He told us that the original building on the site dated from a bequest by the Bishop for an Alms House in 1690. However, the structure was renovated and re-opened in 1990 to serve its current purpose as a senior citizen residence.
The courtyard of what is now the apartment building where Patrick lives and works once served as the church's burial ground. A few older graves still remain, and Patrick tends them carefully. He proudly showed us the slab marking the spot of the grave of George Norrington who died in 1755 at the young age of 38.  "I always try to give this grave a bit of extra attention," he said.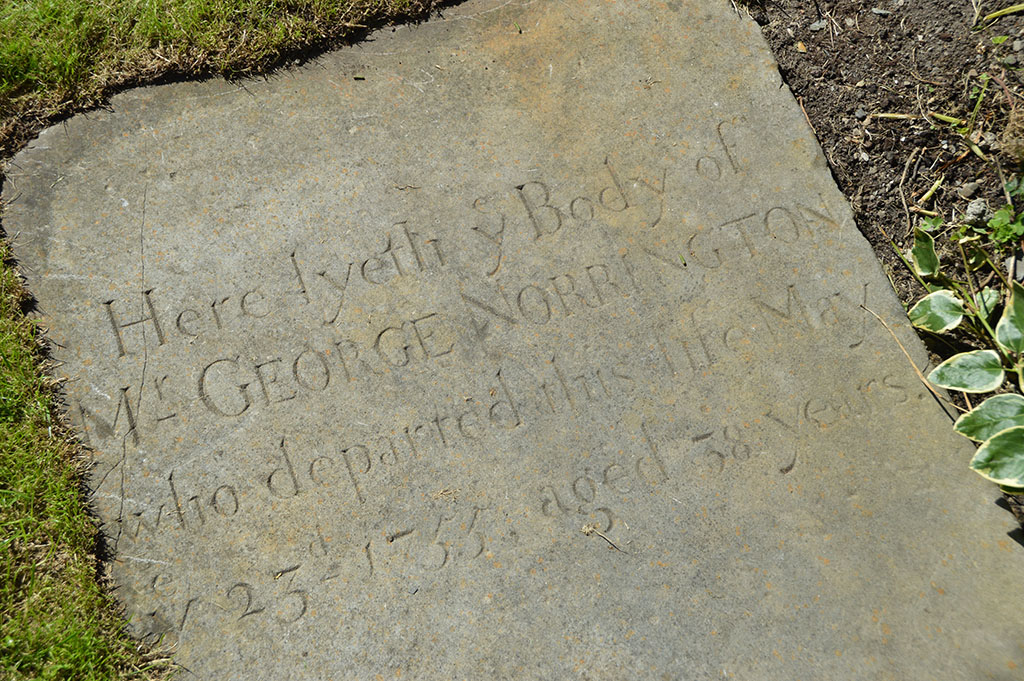 Patrick showed us his favorite rose bushes and the other spectacular blooms which he grows as the general maintenance man of the apartments. "Yes, I do a bit o' that and a bit 'o this and whatever else." he said.
He told us he grew up in the area of Waterford and has worked at Cathedral Close for three years now, living in the custodian's apartment. Patrick's eyes lit up as he said, "Let me show you this." He reached into a small zippered compartment in his wallet and extracted a coin. "Look what I dug up right here in the garden," he said, showing us a coin bearing the likeness of Queen Victoria and the date 1862.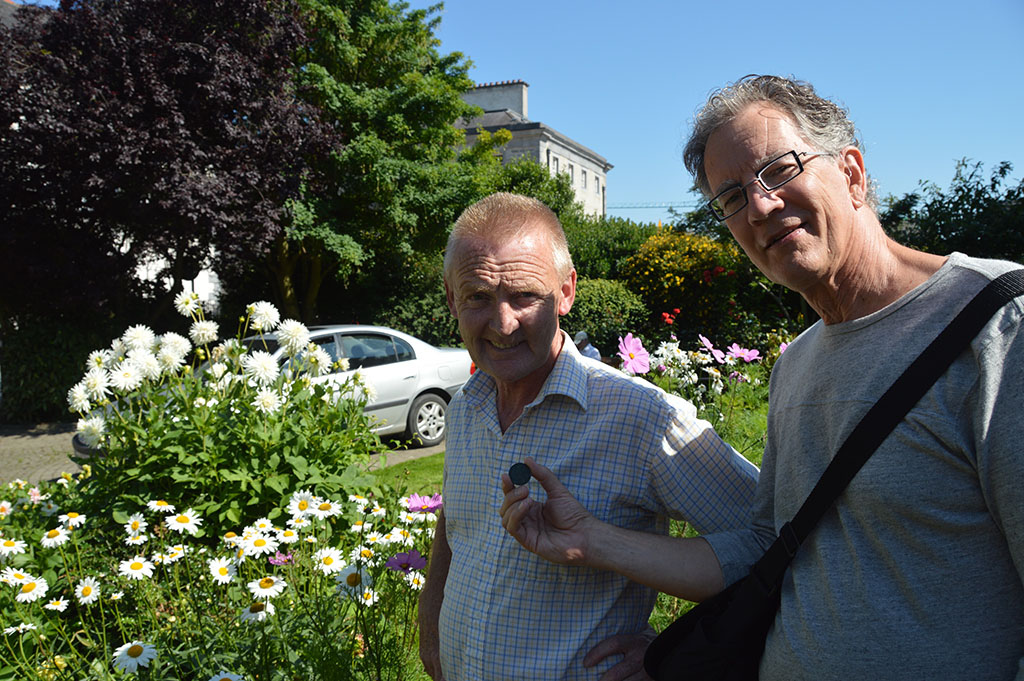 After sharing his knowledge of the place, as well as a bit of his own personal story with us, Patrick bid us goodbye with an Irish blessing. "May you live as long as you want, and never want as long as you live." As we strolled away, we commented on our good fortune in learning about Waterford's past and present from one of its residents.
PATRICK IN CORK
When arrived in Cork, Ireland, we once again set off on foot, without any agenda except to experience the city on its own terms. Our choice of lunch spot represents how international a city Cork has become. We ate at an Italian café owned by a Turkish immigrant on Marlborough Street. 
As we enjoyed our pizza and wine at a sidewalk table, we admired the perfectly maintained old building across the street, graced with beautiful curved-glass windows and hanging flower baskets. Seeing us gaze at his establishment, the butcher behind the counter tipped his white hat and we waved to return his greeting.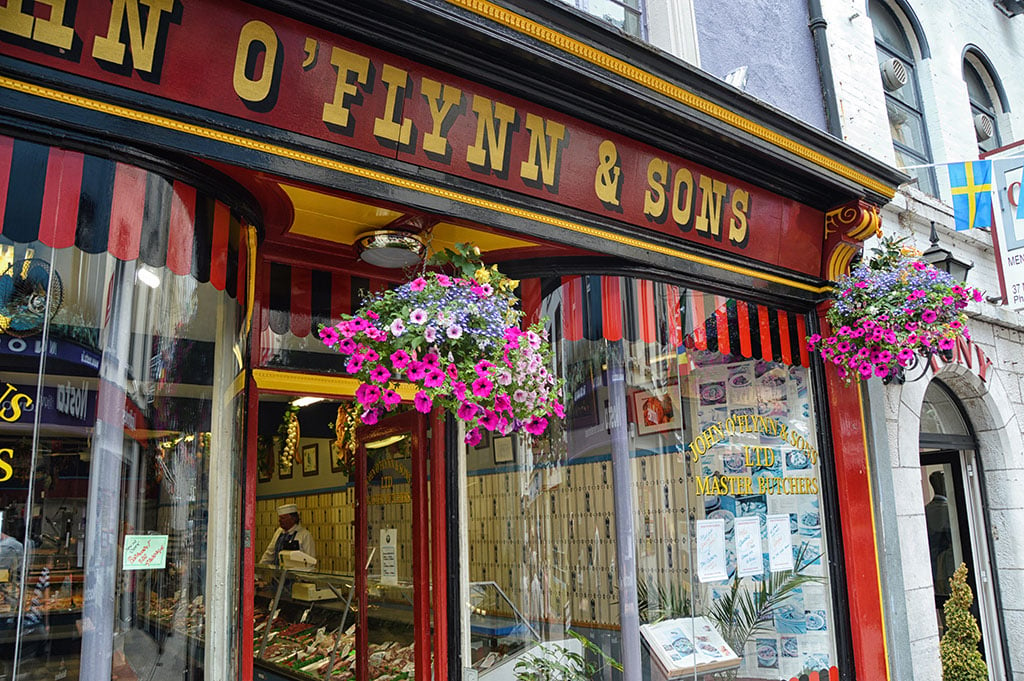 After lunch, we walked across the narrow lane into John O'Flynn & Sons Butcher Shop. The man we saw earlier introduced himself as Patrick. 
Patrick responded in a friendly fashion to our questions about his shop, in spite of the fact that we weren't paying customers (although we certainly wished for a portable grill to sample the obviously high-quality meat displayed behind glass). He told us his clientele consists mostly of individuals shopping for their own tables, as well as a few restaurants.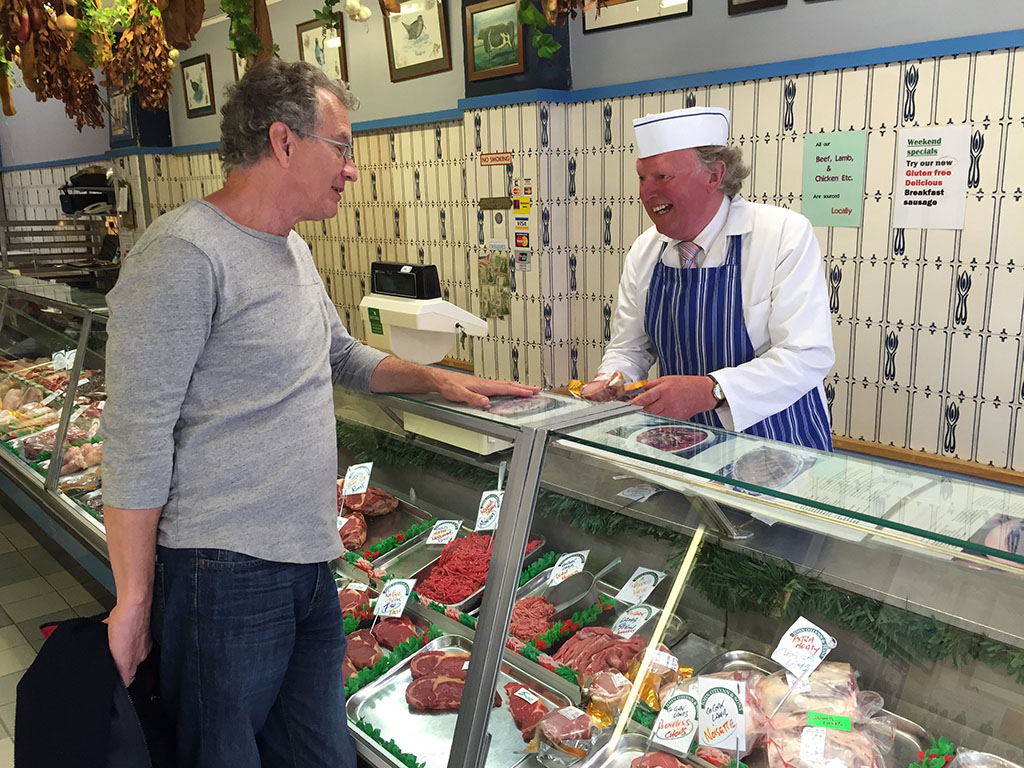 We learned that in Ireland, "farm to table" is more than a trendy foodie buzzword. The meat at O'Flynn's comes from a farm 10 miles away which raises grass-fed livestock. The fourth generation of the family will soon step up to manage the shop, having developed the meat called ''kaisler'' that is an essential ingredient for the world's finest bacon and cabbage.
Like Patrick from Waterford, Patrick from Cork displayed a natural gift for storytelling, conveying his family's story as one of the threads within the larger tapestry of Irish history. He filled in some of the gaps in our knowledge of Irish history explaining that the Irish potato famine did not result from a lack of food. Meat and produce existed in abundance, but wealthy landowners did not permit peasant farmers to sell or eat what they raised. The Irish population was decimated by the Great Famine, we learned, both through death and through immigration as survivors fled the country.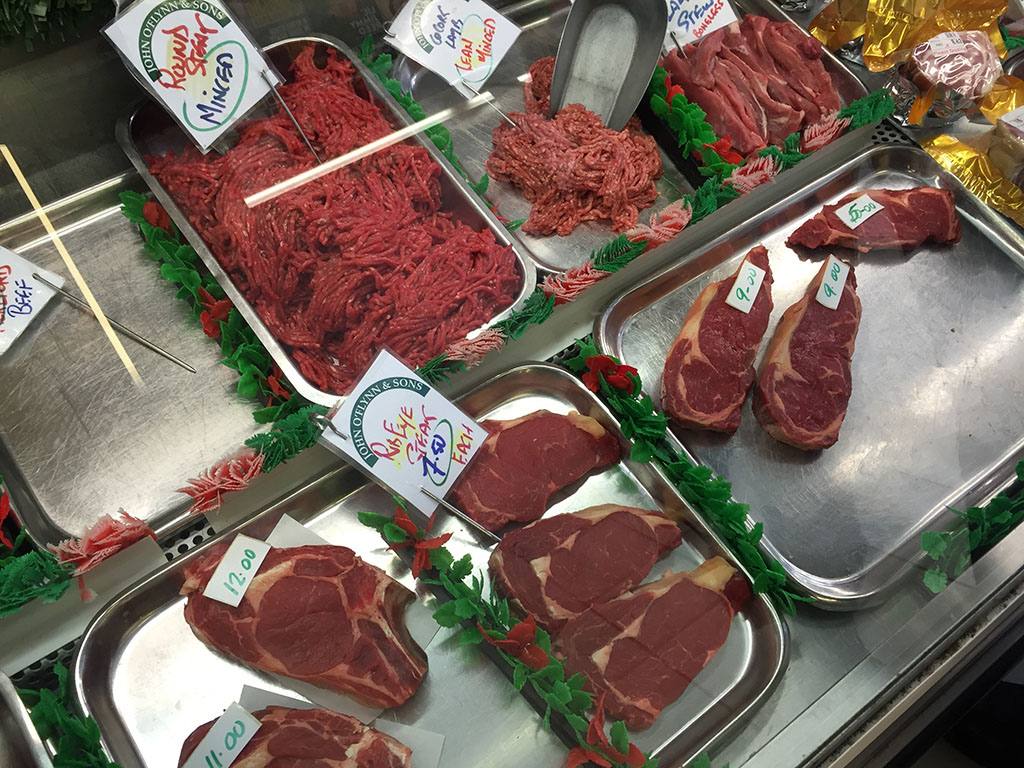 Patrick's talent as a raconteur made the events seem vivid rather than like dry historic facts learned in a classroom. Understanding some of the politics and greed behind the Great Famine in this setting of a butcher shop enriched the irony and poignancy of the historic tale.
Our conversations with two men bearing the name of the patron saint of Ireland felt to us like special gifts attained through the magic of travel. We gained deeper insight into the country from these two chance meetings with its natives. The Azamara style of cruising made these delightful chance encounters with Irish natives possible.
Voyages Featured in this Article
Other Blogs You May Like...
Live Like A Local In Dublin, Ireland
Dublin, Ireland is a great place to visit. It's a must for everybody who enjoys travel and the simple things in life. In Dublin, you can drink and...
Read Article
Are you excited for your next Azamara voyage?
Enter your email address below for exclusive offers, updates, and news. Don't miss out!