Note: This is a special feature post from Mark and Dale from Meet Me OnBoard, the largest gay cruise community online. Azamara is a proud partner with Meet Me OnBoard.
Mykonos
is a gay-popular destination we've always dreamed of visiting, and while we're interested in every stop on our current Azamara Journey cruise, we were extra happy this one was on the itinerary—especially with a late night stay. (An aspect we're really loving about the line!) Like many LGBT travelers, we appreciate the chance to explore by day and night.
Mykonos has a reputation of embracing the LGBT visitor (and certainly straight folks, too—many of whom might not even realize the island's gay-friendly vibe). Within minutes of walking into the old town the gay visitor who is "tuned in" will feel the welcoming and affirming nature of the island.
For instance, we noticed the music vibe in the coffee shops and bars, stores with sexy swim suits for men, and rainbow colors incorporated into the signage of business places.  The fact that there were scores of attractive, stylishly dressed men in port was more than just a hint!
The classic Greek look of whitewashed buildings with blue and red accents are typical on Mykonos. Walking the smooth stone streets in the old town, every turn in the warren of twisting streets brings a new vista or photo opportunity. Shops abound from local crafts to the big international luxury brands. We loved how businesses fit in alongside ancient-seeming landmarks — trendy bars right next to a serene, Orthodox church where candles cast a magical glow onto the altar and icons. For instance, we were drawn into a wonderful restaurant called ODE where we enjoyed an excellent smoothie. ODE was designed in a clean and crisp contemporary way, very sophisticated, comfortable and familiar to the gay traveler.
In the past, the sea breezes nourished the island by powering the iconic windmills on Mykonos, here with the Azamara Journey in the background. The iconic windmills of Mykonos are a testament to the island's connection with nature and the sea.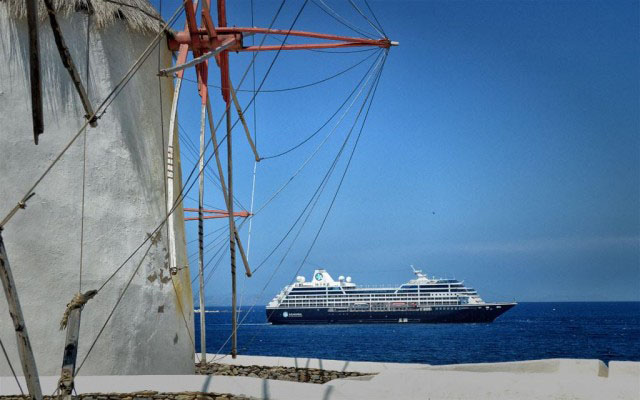 Mykonos's "Little Venice" is aptly named:  A strip of buildings directly on the shore are reminiscent of the iconic Italian city. Bars and cafes dot the shoreline here — a stretch locals call Alefkandra Beach. At this prime real estate where visitors savor dinner or a cocktail at sunset, we noticed that several businesses were especially gay-friendly.  Luckily, Azamara's late-night port stays allowed us to enjoy an incomparable Aegean sunset in Little Venice.
Azamara has several voyages calling on Mykonos in 2015, 2016 and 2017.
View them here.
Voyages Featured in this Article
Other Blogs You May Like...
Azamara Holiday Treats: Gingerbread Chocolate Toffee Bar
The holidays are here, and for many, that means friends, family, and — most importantly — food! Whether it's five-course meals or tasty snacks, there's...
Read Article
Are you excited for your next Azamara voyage?
Enter your email address below for exclusive offers, updates, and news. Don't miss out!